Full-Service Pharmacy In Cayman
At Health Care Pharmacy, we care about your health and wellness. That's why we deliver the products and services that you, our valued customers, need to lead a healthier and happier life. We are dedicated to answering your questions and providing you with excellent service that meets your expectations. All of our pharmacists, pharmacy technicians, and cashiers are trained to strive for outstanding service, and your health is their priority! Located in Grand Harbour, open seven days a week with extended hours for your convenience, and in Governors Square on Seven Mile Beach, we pride ourselves on fast and professional quality service and friendly, knowledgeable staff.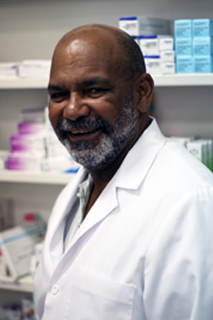 Donald McLean
Owner/CEO
Donald graduated from the Florida A&M University in 1980 with a B. Sc. in Pharmacy. He worked as an intern at the Mount Sinai Medical Centre in Miami and passed the Florida Board of Pharmacy professional examination from where he also became a member of the Florida Pharmacy Association.
Donald was the chief pharmacist at George Town Government Hospital from 1981-1984 and whilst there he founded the Cayman Pharmacist Association in 1982. He founded the Health Care Pharmacy in 1989. In 2004 he became the first chairman of the Cayman Islands Pharmacy Council, and he still is today.
His favourite activity is sailing; and when he's not at Health Care Pharmacy, he can be found on his boat in the North Sound. Donald is an Olympian and also a member of the Cayman Islands Olympic Committee. He is actively involved with the Cayman Islands' athletes, traveling extensively in order to promote the athletes and their country.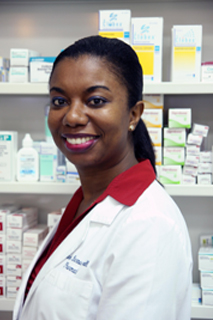 Marla Barnes Small
B.Pharm. Pharm D
Registered Pharmacist
Marla has been in the Pharmaceutical Industry for 16 years. She obtained her Bachelor of Pharmacy at the University of Technology in Kingston Jamaica with high honours.
Marla then joined the University of Florida in 2009 to obtain her Doctor of Pharmacy.
She has been a vital member of Health Care Pharmacy since its inception in 2003, and she is a well-known and comfortably familiar face behind the prescription desk.
She truly enjoys helping Health Care Pharmacy clients with their daily needs.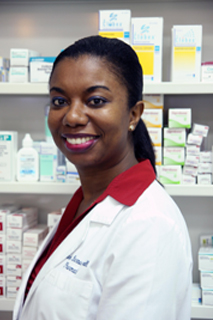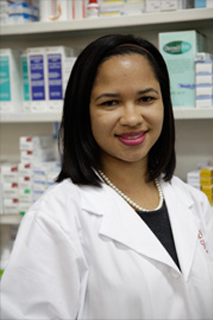 Kirsten Whitely
B. Pharm.
Originally from Jamaica, Kirsten obtained her B.Pharm. Degree at the University of Technology in Kingston. Kirsten has worked in Ocho Rios for the past three years and is very excited to continue her career in Grand Cayman and Health Care Pharmacy. Kirsten enjoys helping clients and expanding her knowledge and furthering her education.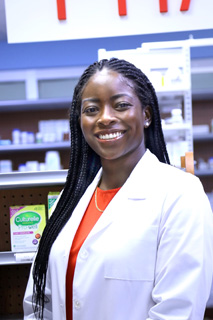 Raynya Dawkins
Originally from Kingston, Jamaica, Raynya Dawkins received her Bachelors in Pharmacy degree at the University of Technology Jamaica in 2012. She has since garnered retail experience as a chief pharmacist as well as sales and marketing experience as a medical representative. Raynya is excited to further her experience at the Governors Square branch of Healthcare Pharmacy in Grand Cayman. She seeks to exemplify outstanding customer service, a hallmark of the Healthcare Pharmacy name, while addressing her patients' needs to the best of her ability. Raynya believes a pharmacists' role is to not only extend knowledge and information but love and support to her patients and strives to do so on a daily basis.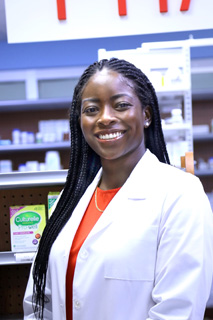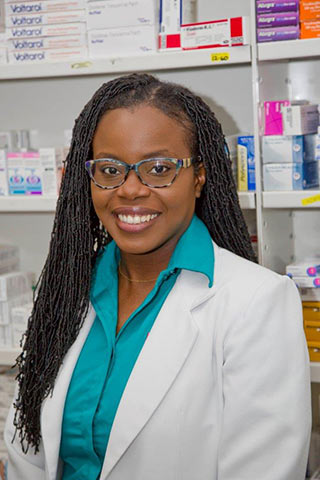 Sharlene Dennis
Sharlene Dennis graduated from the University of Technology, Jamaica in 2013 with her Bachelor's Degree in Pharmacy. She has dedicated herself to her field for the past 5 years working in reputable Retail Pharmacies across Kingston, Jamaica ensuring her customer's needs are always satisfied and gained success in doing so.
Sharlene is thrilled to start a new chapter in Grand Cayman to continue her passion for pharmacy, all the while providing first class patient care for the clients she encounters each day.